Who We Are
The Citizens Research Council of Michigan is a privately funded, not-for-profit public affairs research organization that was founded in 1916.
Since then, the objective of the Research Council has been to provide factual, unbiased, independent information on significant issues concerning state and local government organization and finance. The Research Council believes that the use of this information by policymakers will lead to sound, rational public policy formation in Michigan.
The Citizens Research Council of Michigan is noted for the accuracy and objectivity of its research. Over the years, the Research Council has made significant contributions to the ongoing debate over the appropriate role of government and has gained vast experience in virtually every facet of state and local government.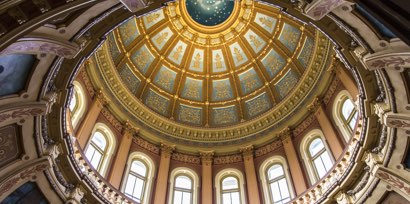 The Citizens Research Council does not lobby, support or oppose candidates for public office, or take positions on ballot issues. Instead, the Research Council relies on the presentation of its research findings to bring about sound public policy on state and local issues. The hallmark of the Citizens Research Council is timely, reliable information researched in an independent, nonpartisan manner. As a result of the credibility earned by the Research Council, it is often the only organization that can address controversial issues in an objective fashion.
The Citizens Research Council of Michigan is supported primarily by charitable contributions from businesses, foundations, and individuals. It is a tax exempt organization and contributions are tax deductible under Section 501(c)(3) of the Internal Revenue Code. The Research Council has eight staff members and operates in four locations — Livonia, Detroit, Lansing, and Holland.
Our Mission
The goal of the Citizens Research Council is to secure good government for the citizens of Michigan — government that is representative of and responsible and accountable to the public; effective in carrying out its responsibilities and providing services; and efficient in the use of its resources. Research Council activities focus on four areas:
Monitoring trends in state and local finances;
Analyzing the structure and organization of government;
Conducting in-depth studies of major public policy issues; and
Assisting public officials and concerned citizens to promote efficiency, effectiveness, and accountability in governmental operations.
Our Core Values
The single most distinguishing attribute of the work of the Citizens Research Council is credibility. Credibility is achieved and maintained over time by adherence to three principles: accuracy, objectivity and independence.
Accuracy – Research Council staff strive to assure that every fact and every statement in a Research Council report is accurate and reliable in every respect. It is recognized that one small error in an otherwise well-researched report can cast doubt on the entire report and that a succession of such errors can destroy the credibility of the organization.
Objectivity – Although many of the analyses have political overtones, the Research Council analyses are noted for their balanced, unbiased approach to such issues. The Citizens Research Council attempts to analyze and reflect as many responsible points-of-view as possible in the conduct and presentation of its research results.
Independence – The Citizens Research Council attempts to define and represent the broader public interest in any given issue. It was not established to represent any special interest or set of special interests. Its value derives in large measure from its independent stance on issues of public importance.